New food
New food
MEETING CONSUMER DEMAND FOR NUTRITIOUS, SUSTAINABLE AND ETHICAL FOOD

Focused primarily on the production of alternative protein foods and protein-rich components, the New Food boom is a response to consumer demand for more nutritious, sustainable and ethical foods.


Feeding a growing population, responsibly
A growing middle class combined with a world population that is expected to reach 10 billion by 2050 will increase global demand for nutrition dramatically, particularly meat and other protein-rich foods. However, science tells us we cannot expand existing agricultural production capacities without severe environmental and societal consequences.
In parallel, food preferences are changing quickly among consumers, many of whom are looking to follow a healthier, low-impact diet that places more attention on animal welfare.
New Food is colorful, diverse and dynamic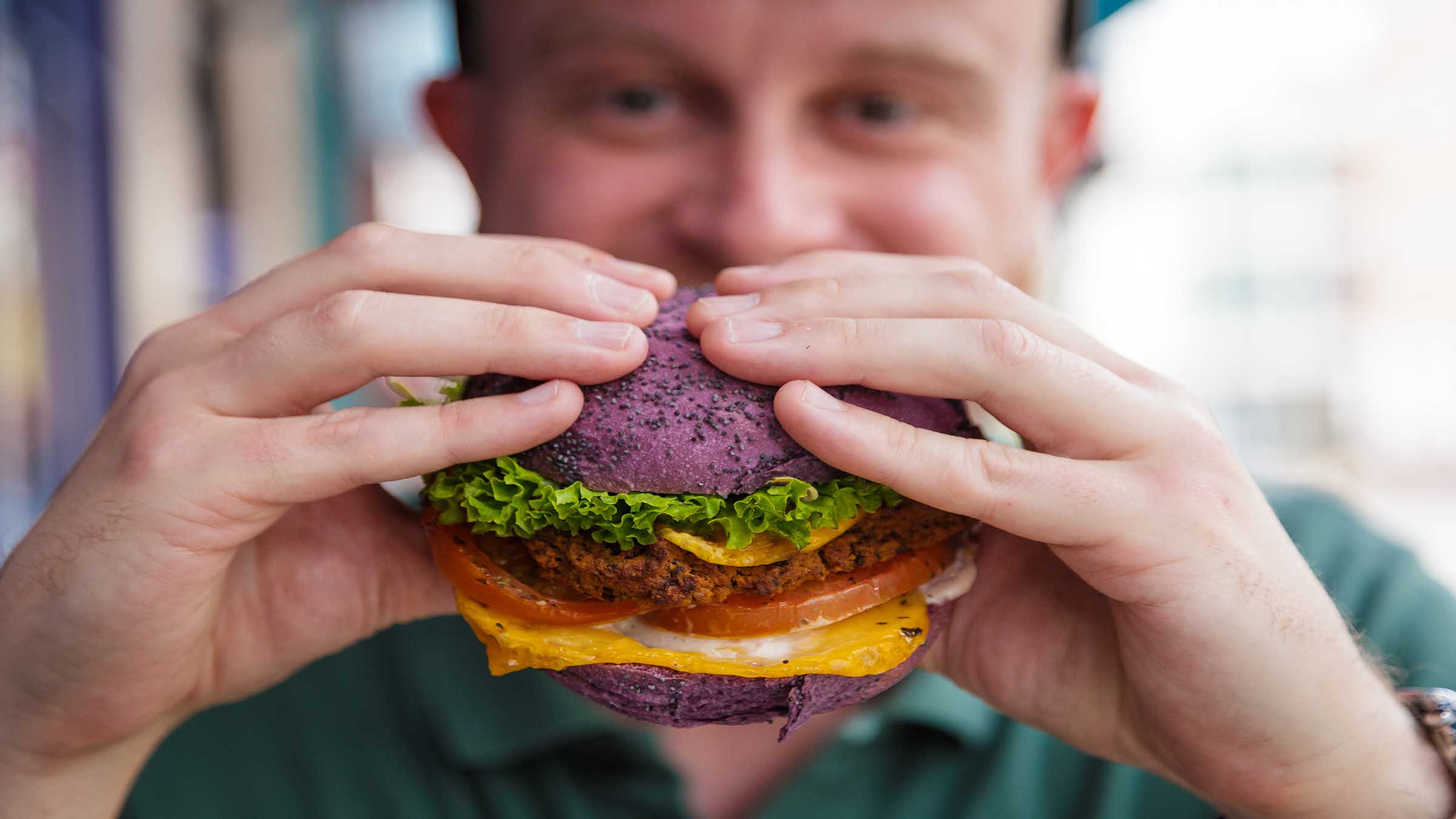 Close up color image depicting a mid adult man in his 30s holding a freshly prepared vegan burger – loaded with salad and sauce, and sandwiched inside a brightly-colored bun – which he is about to eat. Selective focus on the burger and the man's hands in the foreground, while the man's smiling face is defocused in the background.
New Food embraces the basic principle and goal of feeding more people using fewer resources. As a category, the primary focus is protein rich foods and components and other nutritious compounds, produced through traditional processing methods, precision fermentation or tissue engineering, or a combination of these methods:
Plant-based: plant-based foods, plant-based beverages, plant-based components
Mycelium-based: fungi-based foods and ingredients
Precision fermentation: proteins (e.g., enzymes), sweeteners, fats, microbes (e.g., yeast, bacteria and microalgae), algae-based foods and ingredients
Cell culture: cultivated meat, cultivated seafood, cell-based milk
Novel foods: insect-based foods and ingredients, crustacean-based ingredients (e.g. krill)
The development of hybrid products, like those that combine soy heme produced via precision fermentation with plant-based foods, means there are numerous product possibilities. Combining components and ingredients also contributes to healthier and tastier foods which are important factors for establishing customer loyalty.
GEA – enabler of the New Food industry
GEA supports start-ups, ingredient suppliers and food processors to develop, scale-up and produce the nutritious new foods consumers are looking for.
Our customers in the alternative-protein space benefit from GEA's deep food and beverage expertise, as well as our brewery and pharma know-how, which is particularly relevant in the demanding and rapidly expanding area of precision fermentation.
GEA test centers enable customers to test processes, machines, ingredients and recipes with support from our experienced food scientists and technicians. These sessions – which can include machine training – are available on-site or conducted remotely and are important for getting high quality products to market more quickly.
Closing the loop in production
Producing more sustainable food requires an examination of the production processes themselves, which often require large amounts of energy and water. Thanks to our holistic engineering know-how and integrated heating & refrigeration solutions, customers can significantly lower their energy usage and carbon emissions. Likewise, we can help customers minimize their freshwater withdrawals and reuse process water.
Whether your project is greenfield or an upgrade, it is important to involve GEA engineers early in the process to ensure you are taking advantage of every possible lever to increase the efficiency of your process or plant and thereby reduce operating costs. Not sure where to start? Just contact us, as we are happy to support you throughout the entire process.
Products & Technologies
Showing 2 of 16

Centrifuges & Separation Equipment

Since 1893, GEA has been building centrifuges which combine high separating efficiencies, clarifying efficiencies and throughput capacities with maximum savings in terms of energy, water and disposal costs.

Showing 1 of 16

Cleaners & Sterilizers

In today's processing industries, from food and beverage to personal care, from dairy to pharmaceutical, integrated clean-in-place (CIP) solutions play a key role. GEA supplies both manual and fully automated CIP and sterilize-in-place (SIP) solutions, ensuring reliable process outcomes with minimal downtime. Whether it's liquid, solid or semi-solid, GEA's extensive range of cleaning and sterilization solutions — from R&D to full-scale production and from standalone equipment and modules to completely integrated processing lines — are an essential requirement for any quality conscious manufacturer. We also recognize the increasing need to handle highly potent and toxic actives, guarantee both operator and product safety, prevent batch-to-batch cross-contamination and protect the environment.

Showing 1 of 16

Distillation & Fermentation Systems

GEA is your single-source supplier of complete systems, lines and plants for a variety of industries, from food to pharmaceutical, from brewing to biotechnology. Our experienced process engineers have the expertise and know-how to develop innovative and efficient process plants for your individual distillation and fermentation applications.

Showing 2 of 16

Evaporation & Crystallization Systems

Evaporation and crystallization plants are required whenever in a process: water or any other solvent has to be removed, concentration has to be increased or volume reduced, valuable and pure crystals have to be produced, by-products or impurities have to be stripped or precipitated. To meet customer specification in density, purity, particle size, operating time, while minimizing investment and operating costs, the GEA highly skilled process engineers design evaporation and crystallization plants with a full range of all applied technologies. For high standards of quality, recrystallization can be applied to improve the purity of final product. GEA's extensive experience in building continuous evaporation and crystallization plants is essential to satisfy customers' needs.

Showing 4 of 16

Homogenizers

The equipment needed by the homogenizer includes all the components able to micronize the particles of the fluid and to obtain a homogenous and stable emulsion of the product. Industrial and laboratory high pressure homogenizers are positive displacement pumps equipped with the compression block and the homogenizing valve able to process a wide range of applications and to enhance the organoleptic characteristics and the stability of the product.

Showing 1 of 16

Liquid Processing Systems

GEA specializes in the design of liquid processing systems, providing the highest degree of production safety for a comprehensive range of advanced processing units.

Showing 1 of 16

Membrane Filtration Systems

Cross-flow membrane filtration, including nanofiltration, microfiltration, ultrafiltration and reverse osmosis, is the technology of choice for many industrial processes that require the separation or concentration of products without the application of heat. There are applications throughout the food, dairy, beverage, chemical, biotechnology, fermentation, as well as starch and sweetener industries in which membrane filtration excels.

Showing 1 of 16

Mixers & Blenders

GEA's extensive process knowledge and continuous research delivers the most efficient mixers and blenders. We offer a wide range of technical solutions and process options to ensure the efficient mixing and blending of liquids, powders and granules for a broad scope of industries and applications. Our range of high-performance mixers and wide range of capacity options means you can choose a machine that exactly matches your processing requirements. From food, beverage and dairy applications to chemical, personal care and pharmaceutical ones, whether batch or continuous, GEA not only understands mixing technology, we also have a unique understanding and know-how of the entire process, based on many years of experience and hundreds of successful installations.
Let's stay in touch!
Stay in touch with GEA innovations and stories by signing up for news from GEA.
Contact us
We are here to help! With just a few details we will be able to respond to your inquiry.